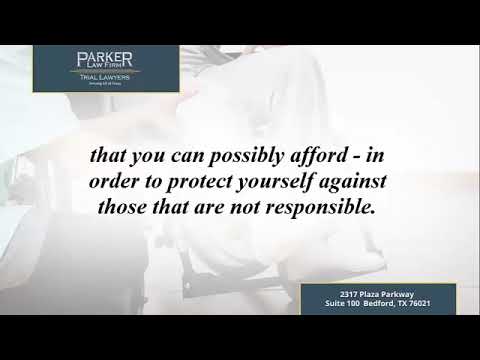 Attorney Brad Parker says a lot of people think that people that do not have insurance could go to jail. In reality you cannot put someone in jail for not having insurance. They can and oftentimes do lose their drivers license but that is about the extent of it.
At the risk of sounding like a broken record this is again the number one reason you need as much coverage that you can possibly afford in order to protect yourself against those that are not responsible. If you are involved in a serious car crash your UI/UIM insurance may be the only insurance available to compensate you for your injuries. Even if the negligent party has insurance they may not have enough.
Texas law only requires a minimum of $30,000 if you are seriously injured $30,000 will not be anywhere near enough insurance to properly compensate you. If the negligent driver does not have any assets then your injuries and damages are not going to be fully satisfied unless you have protected yourself by buying the UI/UIM coverage. Contact attorney Brad Parker in Bedford, Texas for a complimentary strategy session at (817)-503-9200 or visit his website.
CATEGORY: Car Accidents