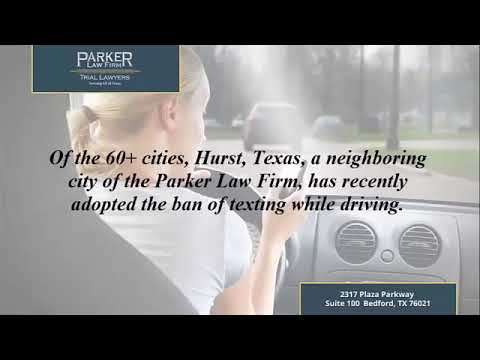 Brad Parker explains that according to the Texas Department of Transportation, one in five crashes involves driver distraction. Although Texas has not opted into a statewide restriction, more than 60 local cities have adopted one or more of the cellphone ordinances including the ban of all uses of wireless communication devices while driving, ban on texting while driving, and ban on texting and other manual uses of wireless communication devices while driving.
Of these 60-plus cities, Hurst, Texas a neighboring city of the Parker Law Firm Injury Lawyers has recently adopted the ban of texting while driving. At the end of July 2016, police and the City Council made the decision to impose the ordinance given that since 2013 more than 200 crashes per year were caused by distracted driving. Of course, there are some exceptions including making an emergency call using hands-free mode or navigating the GPS devices.
Drivers with learner's permits are prohibited from using handheld devices in the first six months, all drivers are prohibited from texting and using handheld devices while driving through school zones. Drivers under the age of 18 are prohibited from using any wireless communication devices and school bus operators are prohibited from using cellphones while driving if children are present. When in doubt don't text and drive, drivers caught using their cell phone or other wireless devices can face a fine up to $500. Drive now, talk later.
Contact attorney Bradley Parker in Bedford, Texas for a complimentary strategy session at (817)-503-9200
CATEGORY: Car Accidents