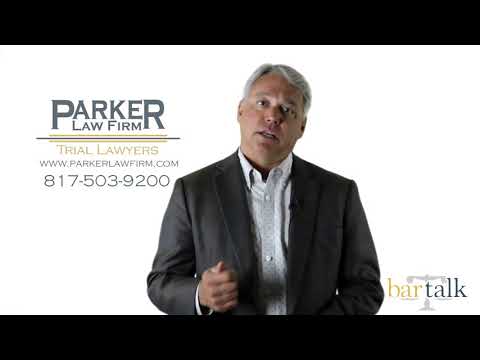 In this episode of Bar Talk, Brad Parker discusses what it means to be a Board Certified Personal Injury Attorney and why it is important.
What does it mean when a lawyer says that they're board-certified and isn't it important? Hi I'm Brad Parker, the attorney you want but hope you never need and it's another edition of bar talk come on in for a minute let me tell you the answer.
In Texas if you get a law license you're entitled to practice law in any area that you deem. You could be a family lawyer a probate lawyer a real estate lawyer a criminal defense lawyer you could do any or all of those things. But when you become board-certified that means that you demonstrated special competency and dedication to a particular area of the law.
For instance, I'm board certified in Personal Injury trial law. Less than 2% of all attorneys in the state of Texas are board certified in Personal Injury trial law. What that means is that I've sat for an exam to show my dedication and competency above the normal practitioner in the area of personal injury trial law and I have to be recertified every five years.
The reason that it's so important that you have a board certified personal injury trial lawyer representing you if you or a loved one have been seriously harmed in an accident is the same reason you wouldn't go to an orthopedic surgeon if you needed your heart to be worked on you. Want a specialist someone dedicated to that area of the practice.
That's why it's so very important to see a personal injury board certified attorney if you or a loved one have been seriously harmed or injured as a result of the negligence or stupidity of someone else. Thanks for sharing this time with me until next time.
CATEGORY: General