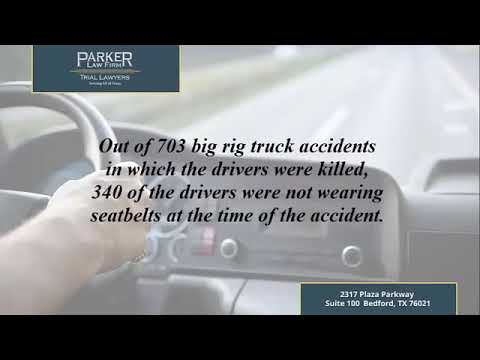 Although the Federal Motor Carrier Safety Administration requires all commercial truck drivers to wear their seatbelts while operating their vehicle,s many truck drivers do not comply. Shocking statistics from truck accidents prove that not wearing a seatbelt results in fatalities. Out of 703 big rig truck accidents in which the drivers were killed 340 of the drivers were not wearing seatbelts at the time. In those in those accidents, 180 of the drivers were ejected from the vehicle.
The most dangerous type of large truck accident is the rollover, and fifty-two percent of all driver fatalities were the result of rollovers. The statistics show that drivers killed in rollovers were eighty percent less likely to be wearing a seatbelt. Drivers often complain that seat belts restrict their movements and are uncomfortable for hours of driving.
They also fear that a seatbelt prevents them from exiting the vehicle quickly in the case of a fire or other emergency. The Federal Motor Carrier Safety Administration contends that seat belts do help restrain drivers and may protect them from injuries in accidents that would cause unconsciousness and that a driver has a better chance of escaping the truck in an emergency.
Contact attorney Bradley Parker in Bedford Texas for a complimentary strategy session.
CATEGORY: Trucking Accidents